Rene-Robert Cavalier Sieur De La Salle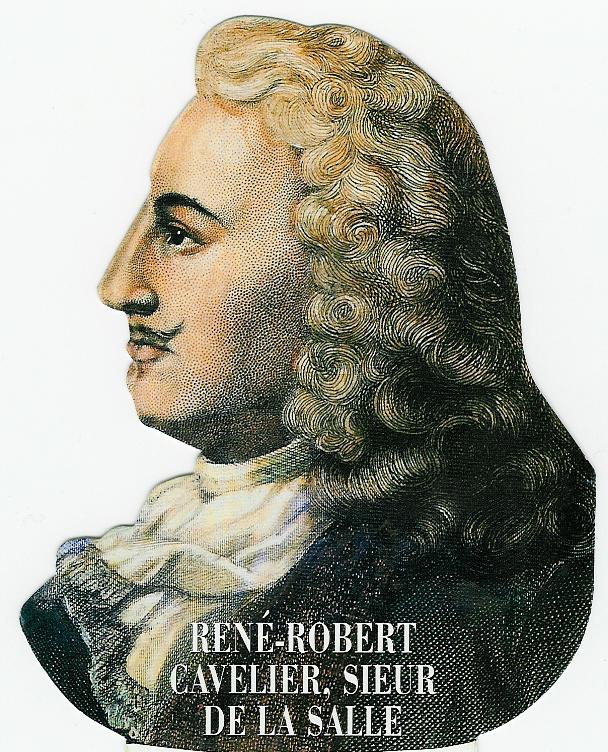 Rene-Robert Cavalier Sieur De La Salle
b. 1643 Roeun, France d. 1687 Texas Territory
click to enlarge image

The Jesuit-educated son of a wealthy French merchant, La Salle sailed to
Montreal
at the age of 23. There he secured a land grant, but becoming restless, he sold it after only three years to finance an expedition of his own.
La Salle had taken care to learn the Iroquois language as well as several other local dialects (languages). From the Indians who arrived in
Montreal
every spring to trade hides and pelts for trinkets and firearms he heard talk of a mighty river called the
Ohio
that flowed south to the sea. La Salle thought it might empty into the
Gulf of California
and provide a valuable new route to the Orient (Far East).
He joined a company of missionaries bound for the Great Lakes, but soon struck out with a few men to find the Ohio River . He spent the next few years exploring the land and rivers south of the lakes. In 1673, after Louis Joliet and Jacques Marquette had explored
enough of the Mississippi to determine that it flowed into the Gulf of Mexico, La Salle and the governor of New France together proposed to build a string of forts and trading posts along the Great Lakes and surrounding rivers to ensure that the fur traded in these parts would all belong to the French crown.
La Salle made two trips back to his homeland, where he received his title from the court of Louis XIV and struck a deal, that not only made him governor of the American West, but also gave him a monopoly on trade exchange for maintaining the needed forts. He returned from his second trip accompanied by a young lieutenant named Henri de Tonti, with whom he sailed down the Illinois and Mississippi rivers, reaching the delta in early April. They fired their muskets, and then La Salle formally took possession for France the entire watershed of the Mississippi and its tributaries, and named the territory Louisiana after his king.
In 1684 La Salle returned from a third trip to France with more than 200 colonists to establish a settlement at the mouth of the Mississippi. Wildly overshooting , he landed instead at Matagorda Bay on the Texas coast. Over the next three years he made unsuccessful attempts to find the Mississippi by sea. Then in 1887 he returned to look for it by land. Soon after setting out uncertainly from Matagorda, he came to grief at the hands of his followers.
Below are links and sites for more information on Rene-Robert Cavalier, Sieur De La Salle
This site was last updated 08/04/2004 08:08 PM -0400