Amerigo Vespucci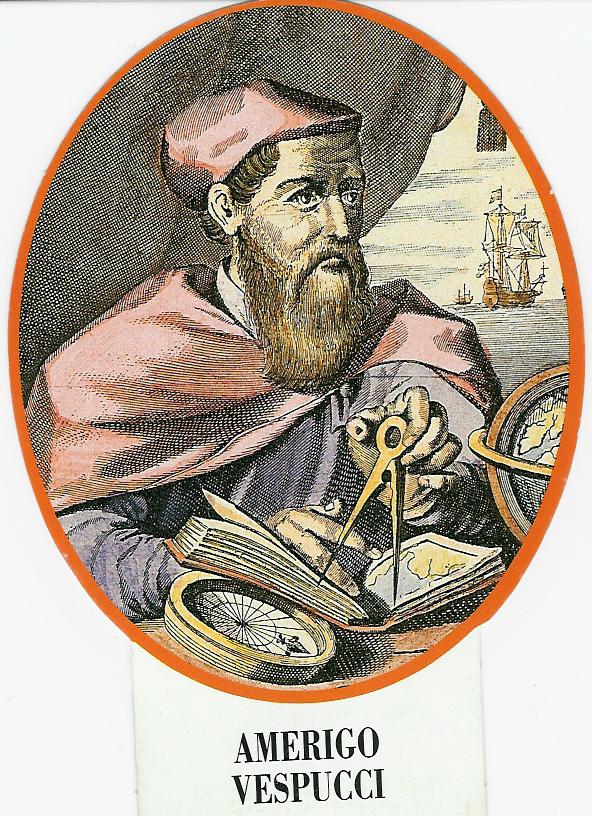 Amerigo Vespucci
b. 1454 Florence, Italy d. 1512 Seville, Spain
Although he claimed it was 1497 when he made the first of four voyages to the land that was subsequently (in the end) named for him, Vespucci very likely spent most of that year in Spain. After all, the commercial house he ran was feverishly busy fitting out (supplying) the ships for Columbus' third voyage, and those preparations lasted into May of 1498. That makes it improbable (not very likely), if not downright impossible, that Vespucci reached the shores of the South American continent in June 1497 as he insisted he did - that is, even before Columbus got there. The second and third voyages that Vespucci called his own do seem completely legitimate (truthful and possible); the fourth, however, seems as fanciful (untrue) as the first. On none of them was he - nor, to his credit, did he claim to be - the navigator in charge.
What, then, can possibly be the justification (reason) for naming two continents after a man whose exploits (voyages) were at least in part invented and who was wholly prone to showmanship - whose accounts were written for the express purpose of making himself a household name? It can only be explained as one of the great flukes (accidents) of history. On the strength of Vespucci's own descriptions of his feats, a German mapmaker named Martin Waldseemuller created a map on which he placed the name "America" on the large southern continent (the extension of the name to the northern continent would come later). We can speculate (guess) that Waldseemuller was reading too quickly and didn't grasp (fully understand) just what Columbus' role had been in all this - or that, in a burst of misplaced enthusiasm, he decided to celebrate Vespucci for declaring once and for all that these new lands were not part of Asia. In any case, he subsequently (later) tried to assign the credit where it belonged-to Columbus-but it was too late. The name "America" had stuck.
For all this, Vespucci's contributions were genuine and considerable, at least in the area of nautical science. The system he created for determining longitude proved very nearly exact. And, at a time when most Europeans thought Asia to be as short a trip across the Atlantic as the Americas turned out to be, Vespucci calculated the circumference of the earth and was off by only 50 miles. Whereas Columbus could only guess at the true location and scope of what he called an "Other World," Vespucci effectively established that two vast (very large) continents lay between Europe and the east coast of Asia.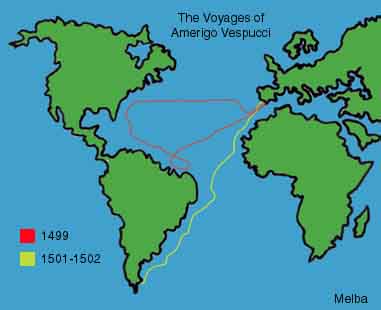 Below are links and sites for more information on Amerigo Vespucci.
This site was last updated 08/04/2004 08:08 PM -0400